St Paul's Open Space Project Update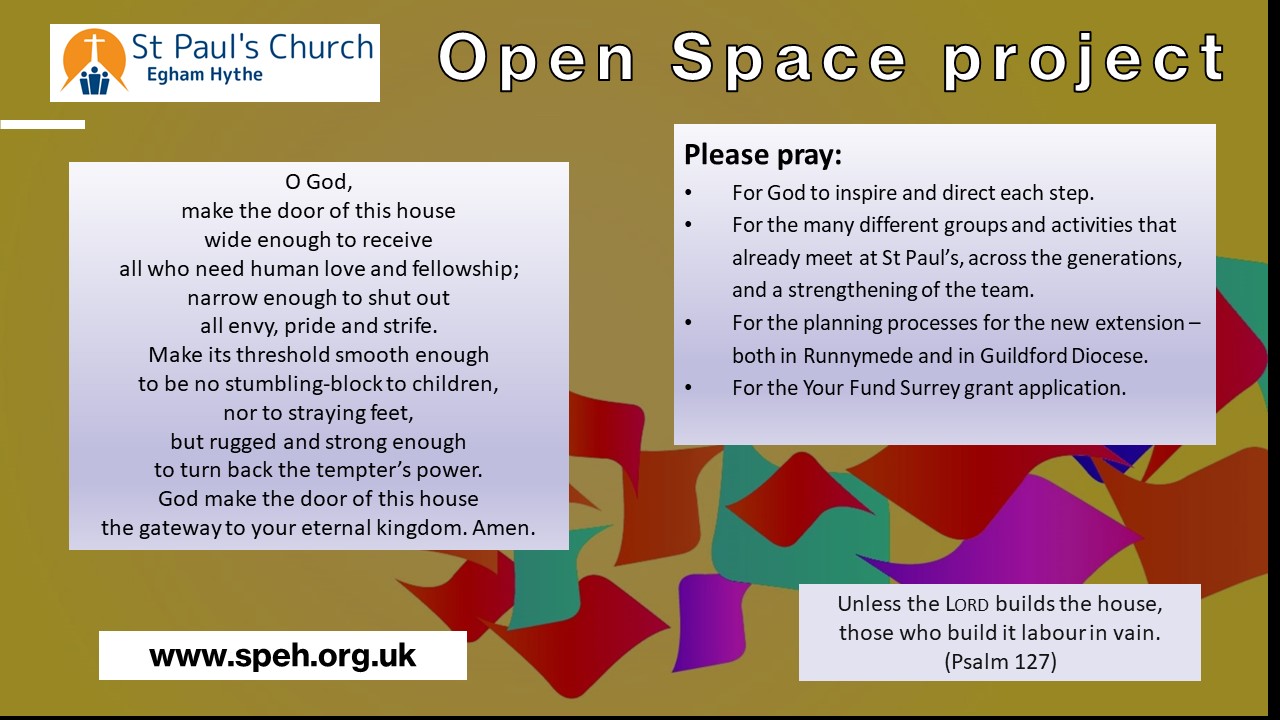 Thank you to all who have engaged so far with this project to improve the facilities of the church, and for the encouragement about how much you value the contribution of St Pauls to our community. We now have architect's drawings and are seeking planning consent. The proposed extension will give us more toilets, including disabled and baby-changing facilities, a catering kitchen, a café area and a small meeting room. These are currently in the process of being submitted to the Guildford Diocese and to Runnymede Borough as we need both church and local authority planning consents to have been approved before we can complete our grant application to Your Fund Surrey. This is an exhaustive process which very much depends on being able to show community support, so please continue to respond to the process and check here for further updates.
Planning consent from Runnymede Borough Council and Faculty Permission from the Guildford Diocese will be sought to:
Build an extension at the north-west corner of the nave to provide:​​​​​

toilets, including one for the disabled, with baby changing facilities
a kitchen capable of providing cooked food and catering for large events in the church
a small café area and meeting space
access from the church and the exterior

Build porches to improve the west and south nave entrances so that they are more open and fully accessible, while also improving them as fire exits and reducing heat loss.
Provide water and drainage services to the south west corner of the nave so that a servery can be created.
Reduce the choir pews in the chancel to make that a more flexible space, particularly for schools use and concerts.
Create storage space in the north transept, ideally repurposing the surplus wood panelling from the reduced choir stalls, including the memorial plaques.
Relocate the World War Two memorial name plaques to a suitable location to be determined.
The drawings for the proposed extension and external views can be viewed by clicking on the following link: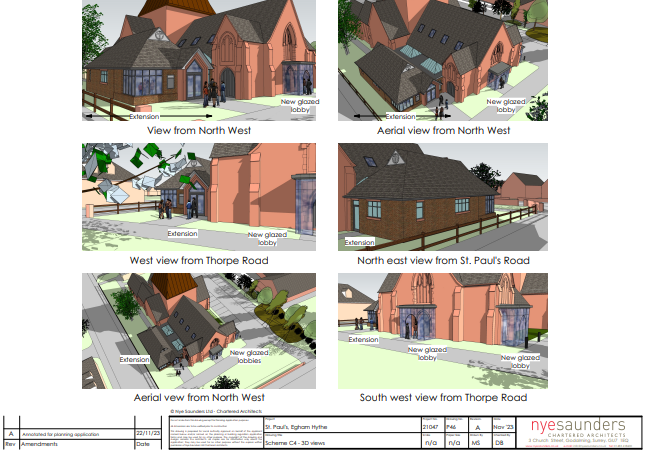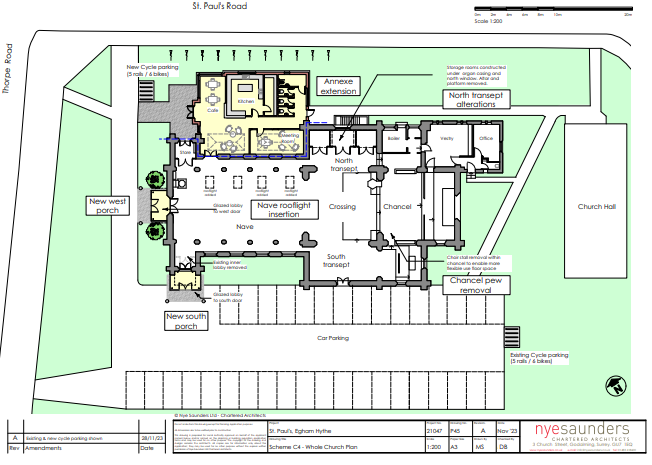 There will of course be a formal consultation period once the planning applications reach that stage, but in the meantime do email us at office@speh.org.uk if you have any queries or comments.
Why do we need to do this? As well as being used for Sunday worship, the church building is much in use during the week. Activities range from Stepping Stones for babies and toddlers, to Youth Space for year 7s, from Messy Church on Mondays to Tea and Chat on Thursdays. In November 2023 we became a new venue for the Runnymede Foodbank.In December 2023 we are holding our 14th Egham Hythe Christmas Tree Festival. Our three local schools (The Hythe, Thorpe Lea and Magna Carta) make good use of the space, as do the local scout and girl guide units, and the Air Training Corps. We often host musicians from Royal Holloway University and Surrey Arts. Improving the facilities will enable us to make these offerings more accessible, and help us develop further activities that will benefit the community of Egham Hythe.
Your Fund Surrey St Paul's will only be able to accomplish this project if we are able to secure grant funding. Our initial application to Your Fund Surrey has resulted in us being able to progress to a full application. As well as the various planning consents it's really important to demonstrate community support so if you're able to give this do contact us at office@speh.org.uk to share your thoughts.